Magazine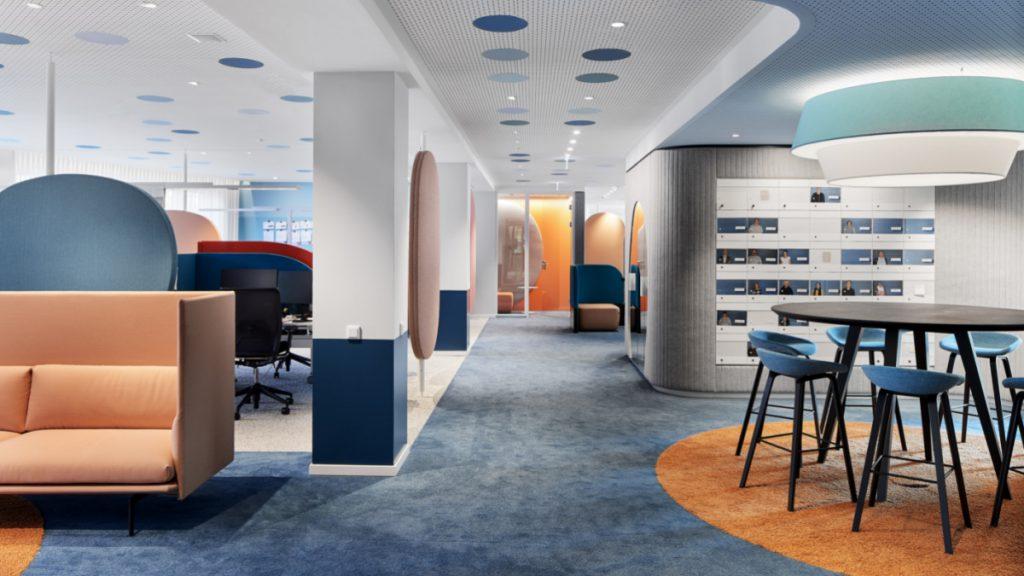 Inclusive office as a smart village
Non-profit association Aktion Mensch has an emphatic motto – "Together we will win". Inclusion is especially important to this private charity, which runs a lottery to support social projects. Its focus is also reflected in the organization's new head office in Bonn, Germany. The design concept by the Ippolito Fleitz Group takes diversity as a central theme. And it also turns interior design into a strong framework for displaying the humane side to life.
Aktion Mensch e.V. is Germany's largest social funding organization. Inclusion is its driving force, which is put into practice in all areas. But what exactly does that mean? The charity dedicates itself to enabling people with and without disabilities to coexist normally in schools, and also in and outside of work.
Breaking down barriers
This is only possible if barriers are removed. In other words, a flight of steps always has ramps or elevators as an alternative. But it also means that government texts and information on the internet must be easy to read.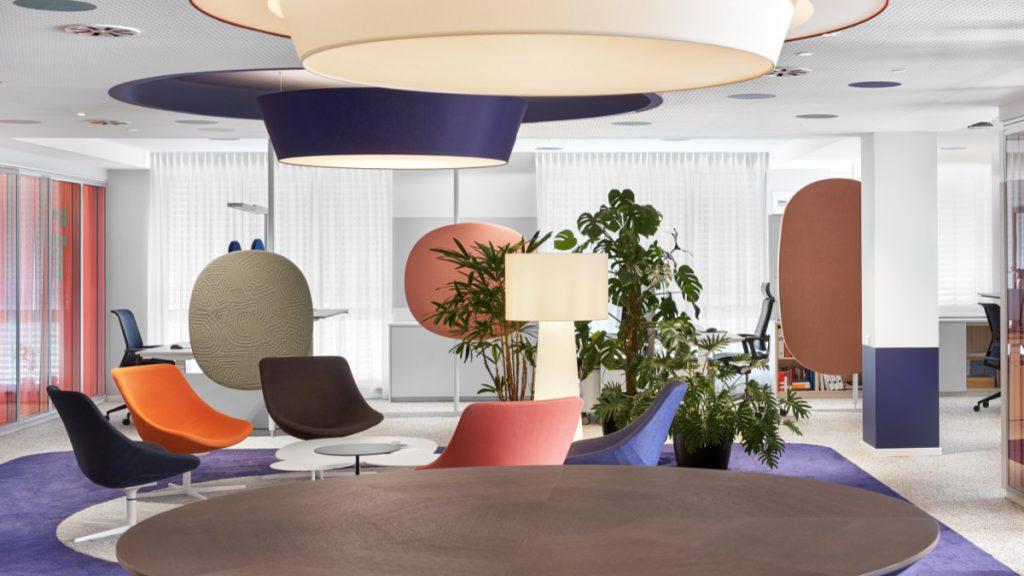 For over 50 years now, the charity has received its income from a social lottery. Every month, up to 1,000 social projects for people with disabilities and also for children and young adults are provided with funding in this way.
Diversity as a guiding principle for architecture
The Aktion Mensch headquarters were redesigned by the global Ippolito Fleitz Group from Stuttgart. Their aim was to design a thriving workplace with 3,900 m² floor space, fulfilling the same requirements as the numerous projects funded by the charity. They wanted to create a place where all employees would feel at home, without any noticeable boundaries.
A humane environment without borders creates value for one and all.

Ippolito Fleitz Group
Using resources responsibly was also crucial here: the multidisciplinary design studio preserved the structural fabric of the office building from 2003. The Ippolito Fleitz Group describes its leitmotif as follows: "The result of our work is a consistent translation of the brand and corporate culture into an atmospheric spatial design that creates identity internally and externally. And which not only underscores diversity, but also a cohesive team spirit on the part of the employees – across all levels. Because a humane environment without borders creates value for one and all."
The village at work
And so the entire office space was divided into eight zones. Each of these areas was given a village square as its centrepiece. As the central meeting places, all these village squares have their own theme which inspires the colour scheme of the square and the accompanying department.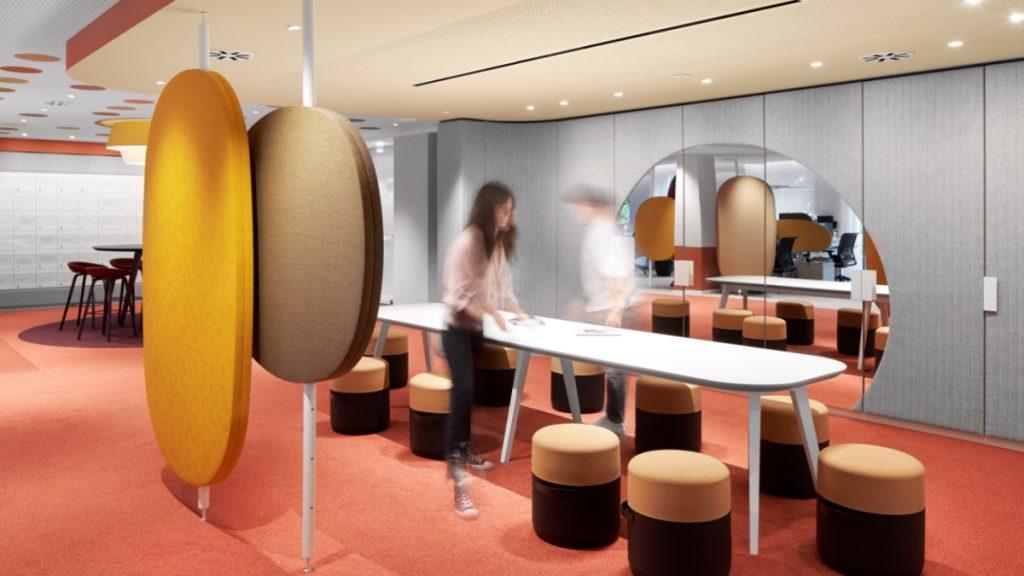 For instance, the question "Where shall we meet?" always receives a specific answer, such as at the festival, at the harbour, at the sports grounds, in the garden, in the library, or at the market. This not only improves orientation, but also strengthens the feeling of togetherness. Communication hubs in the village squares can be redesigned according to requirements and preferences, and they also boost identification with the workplace.
Aktion Mensch – colourful diversity
Colours used for spatial features reflect the wide diversity of employees in the Aktion Mensch headquarters. Adaptable furniture, soft materials and rounded shapes that are never perfectly round all create a feeling that life is there to be enjoyed. Every item is one of a kind – just like the people who work here.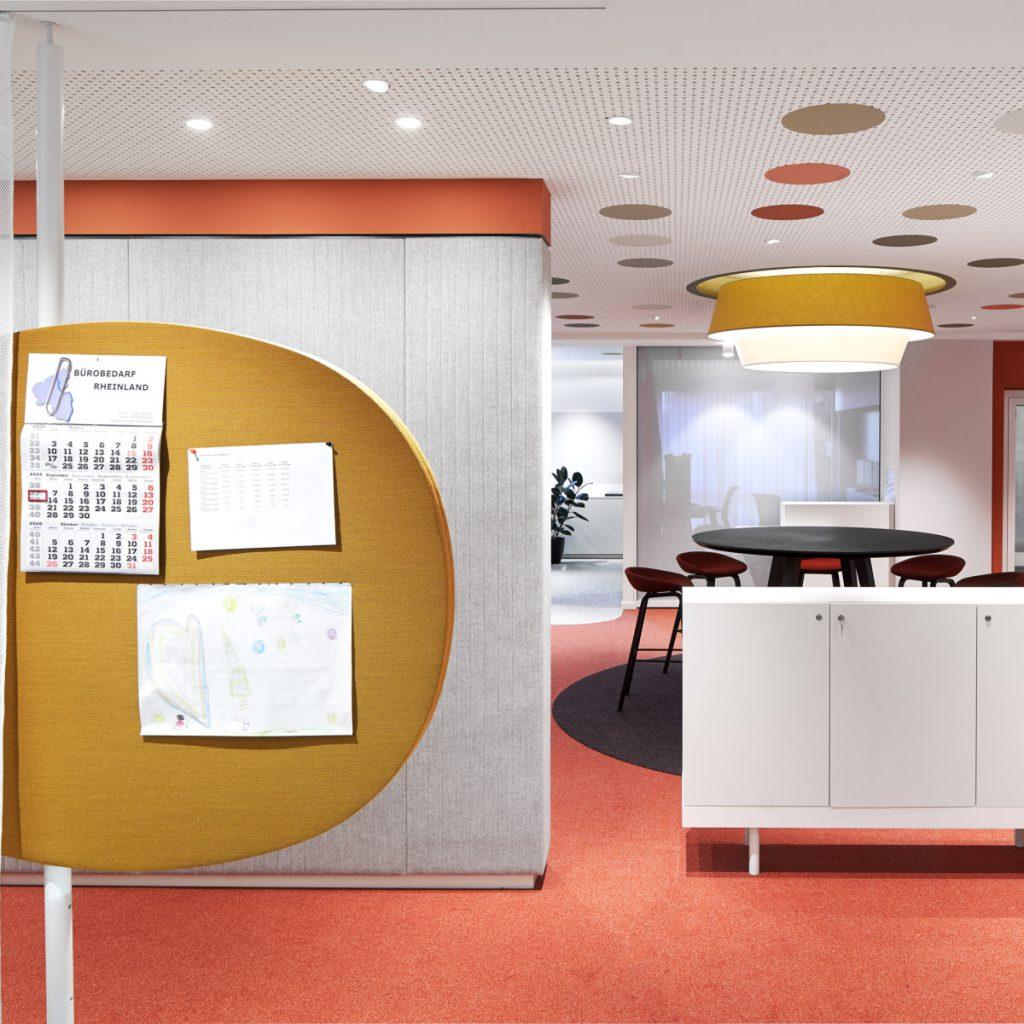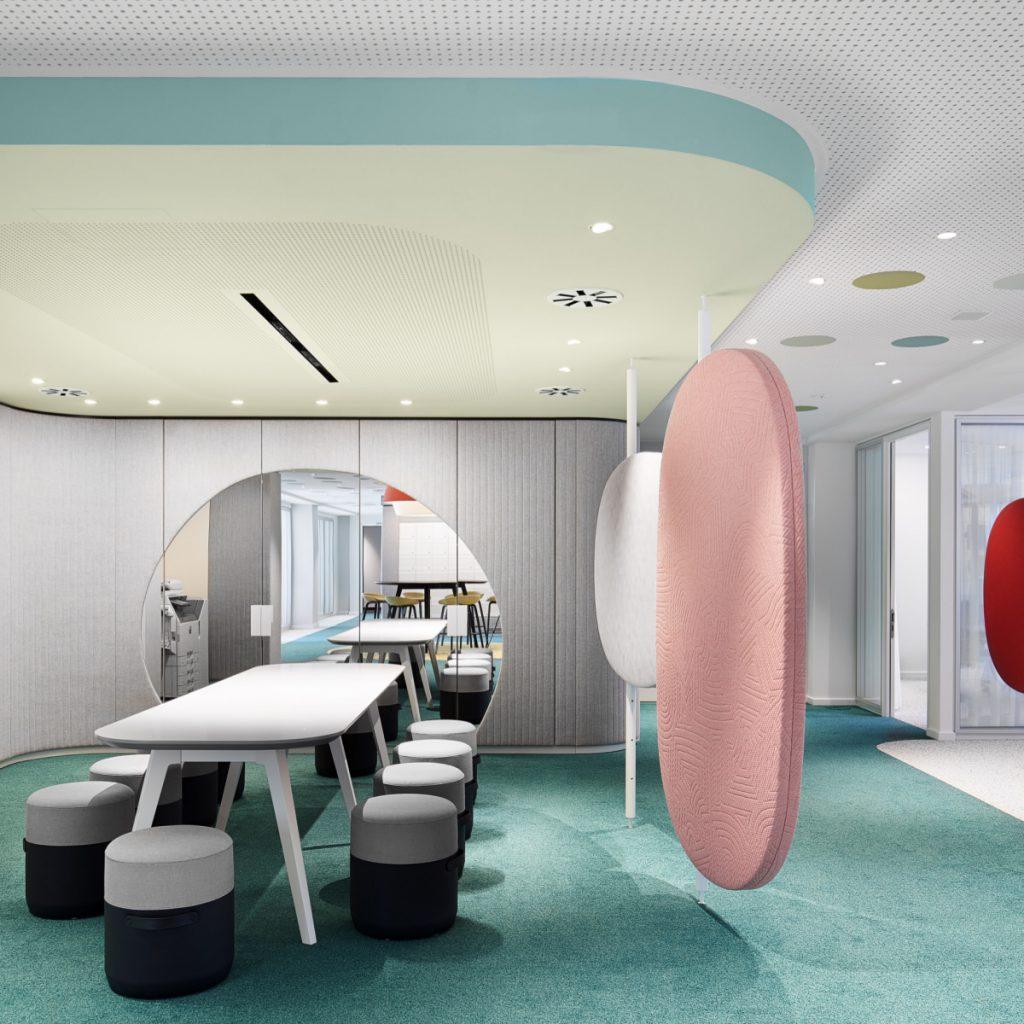 A user-friendly environment allows each member of the team to tap their full potential. Soft textiles reduce noise throughout the office and their eye-catching textures are inviting to touch. For example, cosy telephone booths with upholstery serve as acoustic oases.
More than just accessibility
Carpeting with distinct colours and tactile surfaces help to guide through the office, enabling greater safety at work. Coding of the zone can be understood intuitively.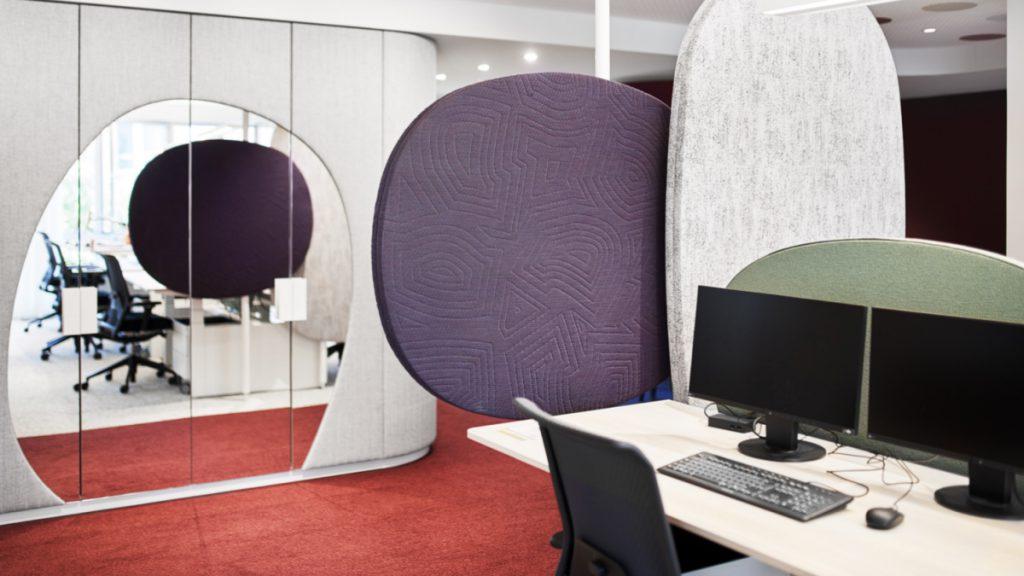 The workstations themselves consist of mobile design elements that can be individually adapted. There is a focus on flexibility and securing needs-based accessibility. Modular furniture such as height-adjustable desks for use with wheelchairs and roll-under kitchenettes are naturally available as well. Ippolito Fleitz Group: "A high degree of self-determination, which our design concepts enable in a natural and intuitive way, is a vital prerequisite for fully functioning agility."
Vibrancy makes the difference
The modular space system provides various approaches in order to enable specific needs to be met at any time. And even though the office looks very open, the employees still enjoy their privacy, with acoustic panels, filmy curtains and vegetation islands acting as screens. Free-standing cabinets offer lockable stowage space and also act as guidance through the office, defining specific areas, while mirrors enlarge the feeling of space.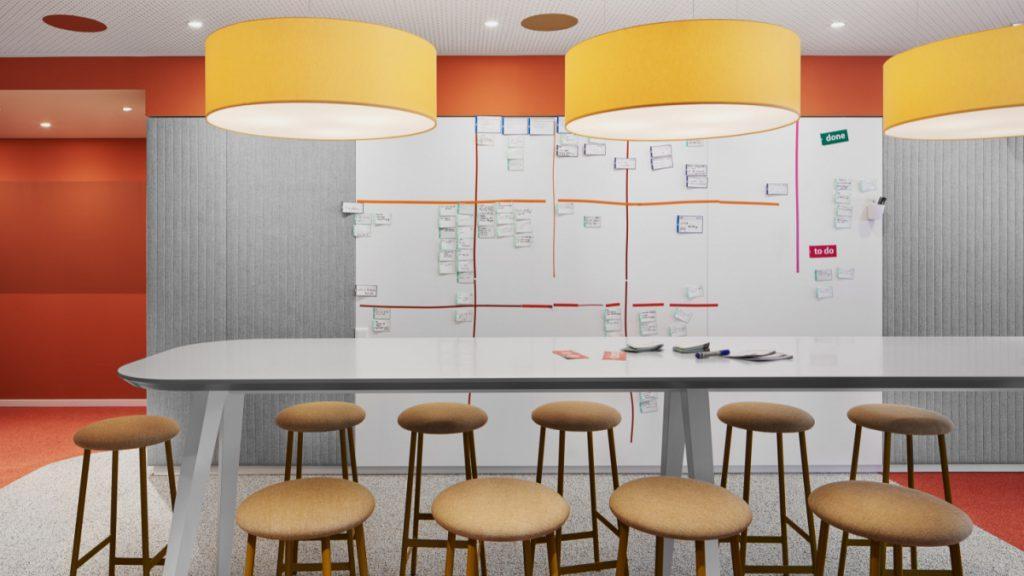 These modern offices naturally use media and lighting technology as well. The former is directly integrated into the upholstered walls, while the lighting illuminates the room panels and upholstered walls as homogenous components, lending the open-place office both structure and an unmistakable character.
Shared responsibility
Incidentally, the charity simply carried on working during the redesign. The upheaval didn't present any problems – after all, working together is the best environment for promoting responsibility.
Text: Martin Obermayr
Translation: Rosemary Bridger-Lippe
Photos: Philip Kottlorz
Other articles
that might interest you