Magazine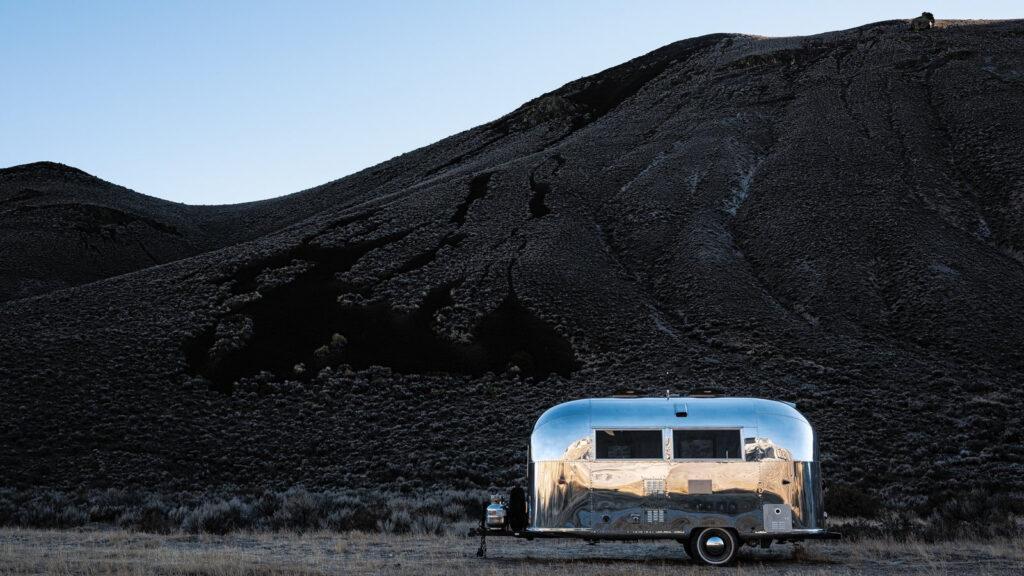 A wanderer with a high-tech trailer
As he was constantly on the move, technology entrepreneur Jeff Kleck was looking for a clever solution for a live-work space. His brilliant idea? To convert an old Airstream into what is probably the world's best mobile smart office, which he calls "Kugelschiff".
Tetris. You must know it, the classic game from Russia (yes, it really does come from Moscow), where you have to put different blocks together like a puzzle.
In any event, Tetris is child's play compared to the challenge faced by architect Robert Edmonds. The founder of the studio Edmonds + Lee Architects suddenly found himself standing in front of an old Airstream tasked with fitting its eighty square feet with everything that can normally be found in an apartment and office. In addition, the trailer also had to meet all the technical requirements of a state-of-the-art smart office.
A "bullet ship" on a grand voyage
One thing is clear: it was a success – and the trailer now bears the fine name "Kugelschiff" (German for "bullet ship"). But let's start from the beginning: American tech entrepreneur Jeff Kleck had had enough of his office situation. On top of this, his professional travels slowly but surely started to take on huge, time-consuming dimensions. The coronavirus pandemic had also recently reshaped the world of work.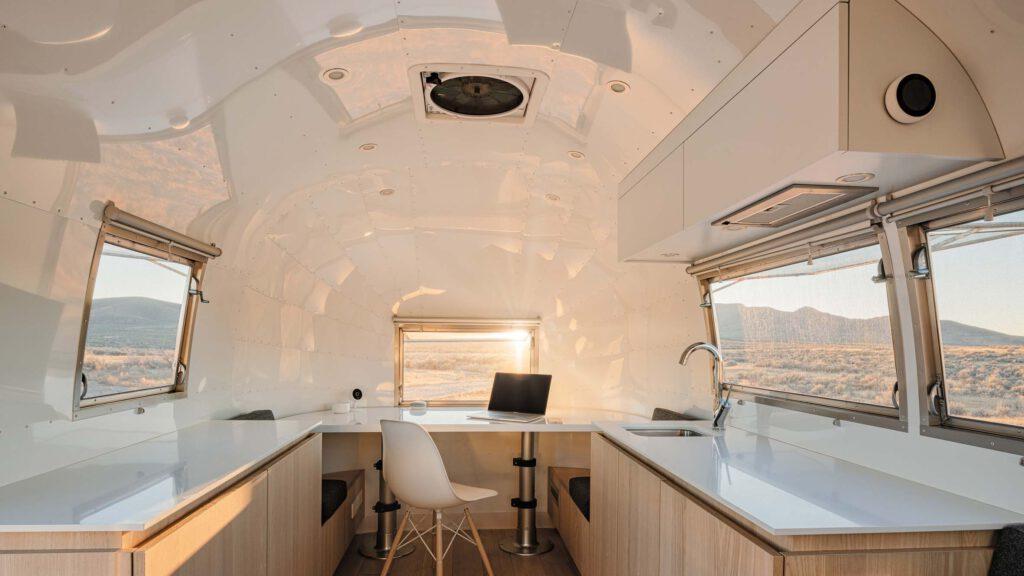 He remembers: "I needed space that would let me work from home, or anywhere I needed to be for meetings, and anywhere I wanted to be for inspiration." He continues: "I needed something high-tech with connectivity to the Internet and the Cloud, and big enough for a few people to gather some of the time."
From Airstream to Kugelschiff
When he told this to his daughter Alaina, she immediately had the idea of buying an old Airstream and converting it into the coolest and smartest home office in the world. This hit the mark with her father, not entirely unexpectedly. He said: "Modern design environments have always been my preference as they've an atmosphere of optimism."

But before architect Robert Edmonds could even get started, unexpected stumbling blocks had to be cleared out of the way: Jeff had set his heart on the iconic model Airstream Bambi II, which was only built between 1964 and 1965. In other words, there are almost none left. Jeff is staying tight-lipped about how and for how much he finally got his hands on what is now the Kugelschiff. But in any case, on one special day, he enlisted Edmonds' firm.
What can you do with 80 square feet?
He remembers that day very well. After all, the jigsaw puzzle design required for the Kugelschiff was a completely new challenge for Edmonds + Lee Architects. Robert Edmonds: "It became an experiment to see if we could condense our broader ideas of space and architecture into 80 square feet."
This meant: "Seamless, multi-functional programmatic elements are something we've explored in all of our projects because they're an honest response to how people live their lives, but in the constraints of this space, that needed to be coupled with incredibly precise detail that blends tight, interlocking programs together."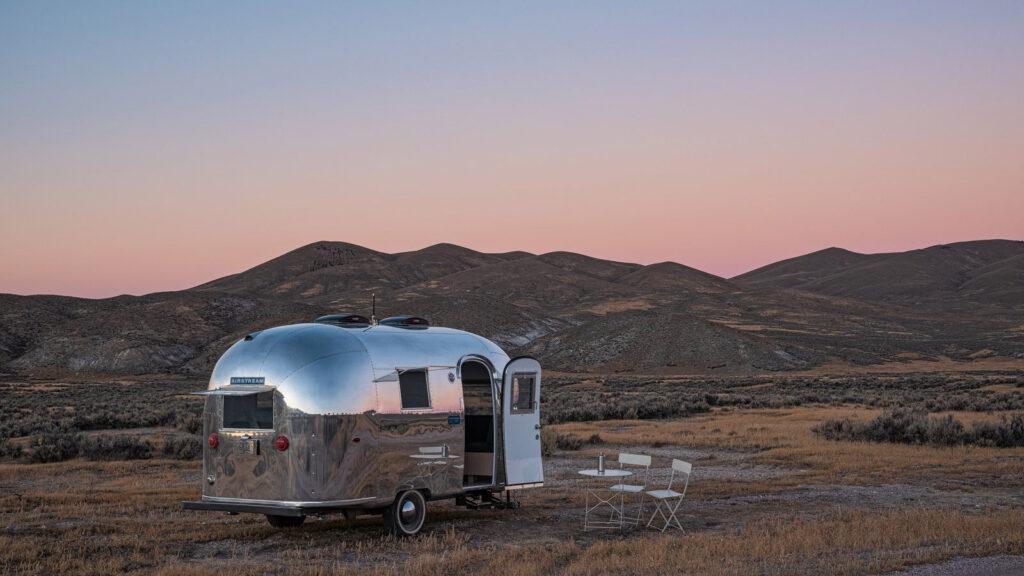 To approach the solution to the big problem posed by a small space, Edmonds drew on unfamiliar know-how: "I looked to aeronautical architecture, where there's a tossing out of the traditional givens – edge, corner, and boundary – and instead looked at the space as a three-dimensional system that needs to be many things at once and still highly stylized."
Every niche is used
The result: the kitchen is located in the middle, and, when not in use, the sink can be concealed with a removable panel. A refrigerator is hidden below the counter and behind the millwork. The puzzle architect also mounted a desk on pistons that can be lowered to the height of an adjacent bench, allowing it to convert to a bed frame.
Edmonds says: "The extensive equipment needed for the Airstream to travel and function off-the-grid is located within the kitchen cabinets and banquet seating, or concealed into the floors and walls."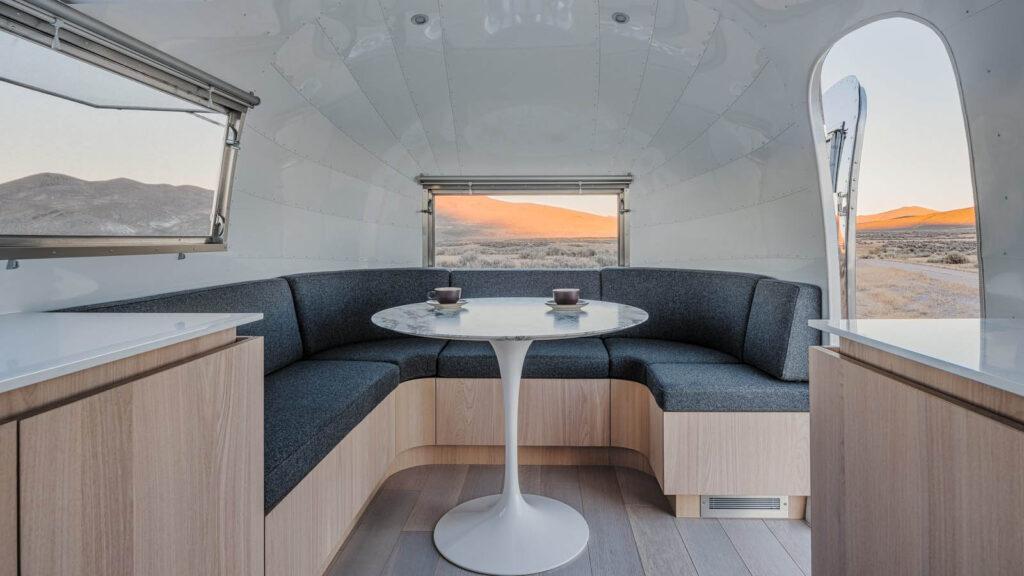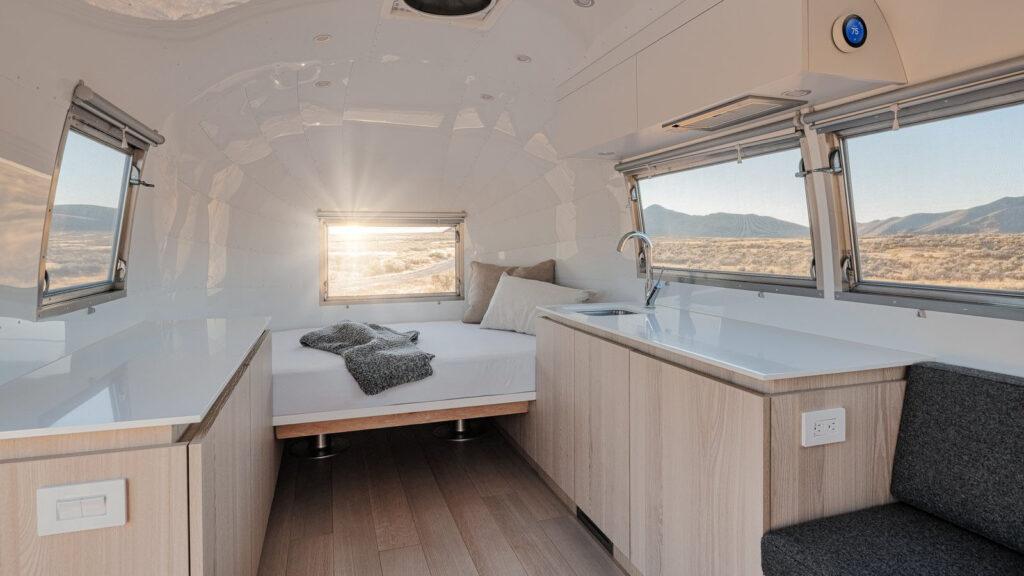 As so much had to fit into such little space, the design had to be perfect. This meant: white-painted aluminium interior wall panels, white ash floors and cabinets, and countertops made of Corian. "The glossy finish of the painted aluminium minimizes visual clutter and accentuates the play of light on the curved surface of the ceiling and walls," Edmonds explains.
Added to this were a few impressive names: the Kugelschiff is equipped with a Tulip table designed by Eero Saarinen, surrounded by chairs from Charles and Ray Eames and bench cushions upholstered with Maharam wool.
The Kugelschiff sets course for the desert
Jeff, in any case, has enjoyed travelling to the mountains ever since his Kugelschiff was finished. Or into the desert. But also to the beach – wherever he feels like working at that particular moment. And at the end of the day, he can shut everything down and unwind in the middle of nowhere.
And Jeff is certain that this new way of life will conquer the world. But only, he says, when the technological systems work as well worldwide as they do where they and almost all of Tetris' successors are developed: in Jeff's home, Silicon Valley.
Text: Johannes Stühlinger
Images: Joe Fletcher
Other articles
that might interest you